10 Lotteries That Canadians Love to Play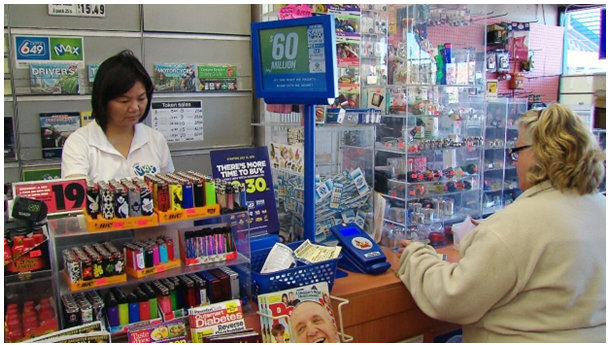 There is no dearth of lotteries in Canada, and Canadians have made name and fame winning the lotteries. Recently Stu MacDonald, a two-time cancer survivor from Oregon, won $4.6 million in Oregon's Game Megabucks lottery MacDonald, who plays the lottery weekly, opted for the $2.3 million lump sum so he took home $1.56 million after taxes. Every time he played the lottery, Stu's wife Claudia would tell him to "pick the winning ticket," and on Sept. 7th 2019 he finally did. The ticket was purchased at Ashley's Cafe in Bend, Oregon.
Also in Calgary, lucky lottery streak continued after Lotto 6-49 announced the winning numbers of Saturday's $9-million jackpot. There were two winners and each won a $3-million prize, according to the Western Canada Lottery Corporation.
The winning numbers of this lucky Lotto 6-49 draw were 2, 21, 22, 24, 48 and 49, and the bonus number was 23. Another winner from Calgary won Lotto Max lottery which is estimated to be $50 million.
This shows how Canucks are in love with lotteries. Each state has its own lottery corporations that run these lottos such as Loto-Québec, Atlantic Lottery Corporation, Ontario Lottery Corporation, the Western Canada Lottery Corporation, and the British Columbia Lottery Corporation. These corporations are responsible for setting rules and regulations in their regions but together, they make up the Interprovincial Lottery Corporation.
Here are the 10 lotteries that have been favorites among Canadians and still are played.
1. Lotto Max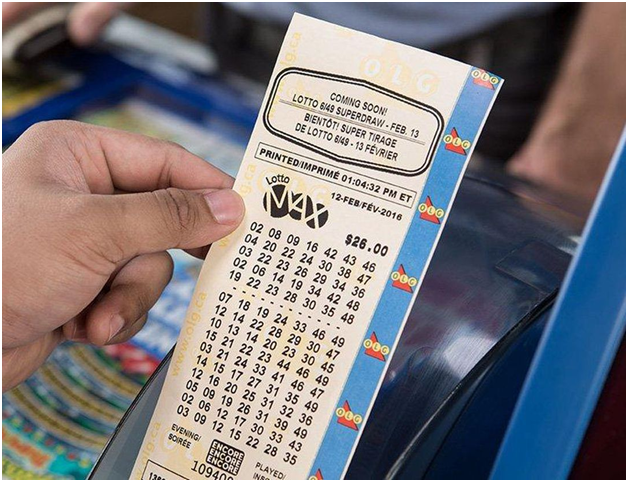 Lotto Max is the most popular lottery where you are required to acquire 3 sets of digits when purchasing every C$5 ticket. Each set features 7 digits that range from 1 to 49 which means players will get 21 digits for each ticket. The minimum jackpot at stake is CAD 10,000,000 and can even reach an incredible CAD $60,000,000. To win this jackpot, you'll have to match all the 7 digits exactly.
You can buy Lotto Max tickets online, and draws are held every Friday when the draw is being undertaken, a bonus number is drawn to award prizes. Consequently, if you miss out on the jackpot, there are other lower-tier prizes to cheer you up. To date, Lotto Max has given out close to C$77,346,960.20.
The Lotto Max game is administered by the Interprovincial Lottery Corporation, a consortium of the five regional lottery corporations in Canada.
Loto-Québec and the Western Canada Lottery Corporation also run local versions of Lotto Max, known as Québec Max and Western Max respectively. These draws are held on the same night as each Lotto Max draw and have similar payouts, but with a fixed jackpot of $2,000,000, and additional drawings for a pool of 7 (Quebec) or 10 (Western) $1,000,000 prizes on each draw, similarly to MaxMillions. Lotto Max selection slips offer the ability for players to choose between Lotto Max, the regional game, or to play both games using the same numbers.
Loto-Québec is the only region out of all five regions allowing players to select all 3 lines for a $5.00 play instead of the 2nd and 3rd mandatory computer-generated combinations.
In May 2019, the game introduced major changes, including adding a Tuesday drawing, a larger jackpot cap, a 50-number field, and two additional prize tiers.
The field of numbers increased to 50 (changing the odds of a jackpot win to 1 in 33 million), the main jackpot cap was increased to $70 million, new prizes were added for matching 4 or 5 numbers and the bonus number, and the game added a second weekly draw on Tuesdays. These changes would help Lotto Max reach higher jackpots more often.
2. Lotto 6/49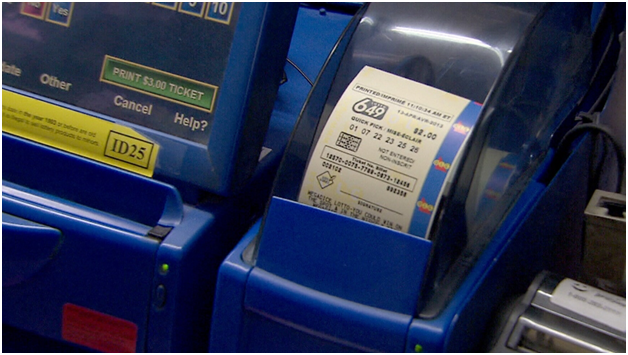 Lotto 6/49 is undoubtedly the most popular online lottery in Canada. To buy Lotto 64/9 online, each ticket goes for C$3 and a player gets two sets of numbers. One set is meant for the main jackpot draw and players a required to choose 6 from a range of 1 to 49 numbers. The second is comprised of 10 numbers and is meant for the Guaranteed Prize Draw worth one million.
The jackpot of this lotto starts at C$5 million and rolls over if a winner is not found. To win it, you be required to match all the 6 digits correctly. Draws are held twice a week – on Wednesday and Saturday. Lotto 6/49 holds the record for the highest jackpot win in Canada lotto history when a lucky player walked away with C$63.4 million in 2015.
The Lotto 6/49 game is administered by the Interprovincial Lottery Corporation, an alliance of the five regional lottery corporations in Canada.
Alongside the main Lotto 6/49 drawing, the regional corporations also run local versions of the game; Atlantic 49, Quebec 49, Ontario 49, Western 6/49, and BC 49. These draws are held on the same night as each Lotto 6/49 drawing and have similar payouts (although only Ontario 49 and Western 6/49 offer a free play on matching two numbers, as with the current format for the national game), but with fixed jackpots of $2,000,000 ($1,000,000 on Atlantic 49). Lotto 6/49 selection slips offer the ability for players to choose between Lotto 6/49, the regional game, or to play both games using the same numbers.
3. Lotto Daily Grand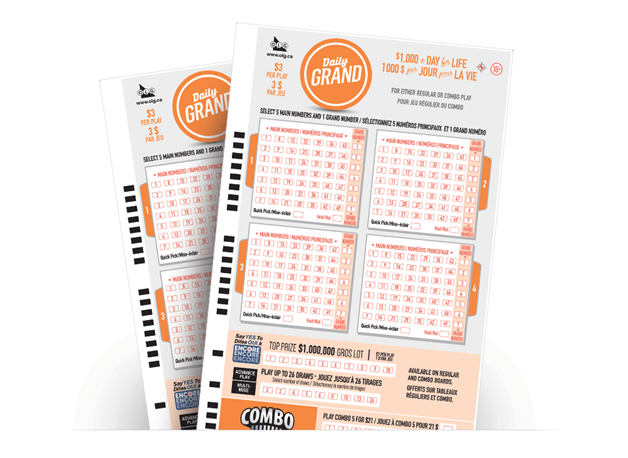 Lotto daily grand is played across all regions in Canada. If you decide to purchase a Daily Grand ticket have an opportunity to bag C$1,000 each per day until the end of your life! This is insurance you're unlikely to find with any other lotto. One ticket costs C$3 and one is supposed to choose 5 digits ranging from 1 to 49 and a grand number ranging from 1 to 7.
Daily Grand (also known as Grande vie in Quebec and Atlantic Canada) is coordinated by the Interprovincial Lottery Corporation, as one of the country's three national lottery games, alongside Lotto 6/49 and Lotto Max.
Winning numbers are chosen from five of 49 main numbers, and a "Grand Number" from 1 to 7. The Grand Number can also be used to match numbers from the five main numbers. A single board costs $3, and the game's top prize is an annuity of $1,000 a day (with a $7,000,000 lump sum option). Draws are held bi-weekly on Monday and Thursday nights.
You can opt to choose the digits yourself or go for the Quick-Pick where numbers will be automatically chosen for you. In addition, players can decide to buy a combination ticket where they are allowed to combine several options.
A lump sum option is available on the top two prizes, and is the only option if there are multiple winners. The annuity will last for the remainder of the winner's life, with a guaranteed period of 20 years (a beneficiary is chosen to receive the remainder of the 20-year minimum balance if the winner dies before the 20 years passes).
4. Daily Grand BC/49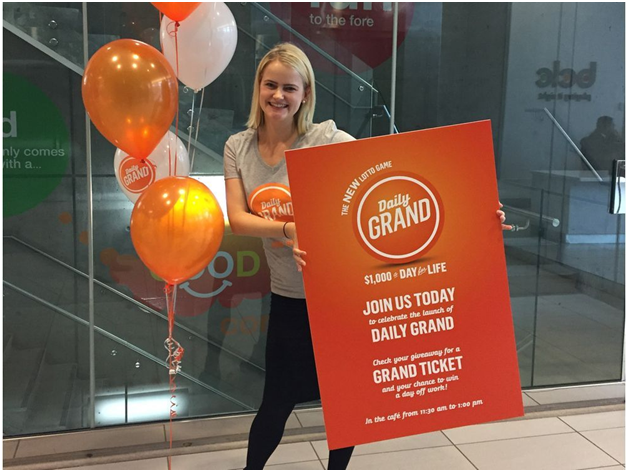 Daily Grand BC/49 is lotto that is only available in British Columbia and guarantees players a jackpot worth C$2 million. What's more, remember to say "Yes" to the extra and stand a chance of winning C$500,000. Playing this lotto is super easy. As such select you 6 lucky digits from a pool of 1 – 49 or choose the Quick Pick feature where your numbers will be randomly selected for you. Each set of six digits costs C$1 and one can even choose up to 10 selections in a single ticket.
Daily Grand BC/49 has a double play option whereby, your selections will be used not only for BC/49 but also for Lotto 6/49. To choose this option, you'll have to part with $4. If you wish to buy tickets for two or more draws, there's an Advance Buy option you can select. You can select the number of subsequent draws you want to take part in which cannot exceed 28. Draws are scheduled for two days – Wednesday and Saturday.
5. Lotto Extra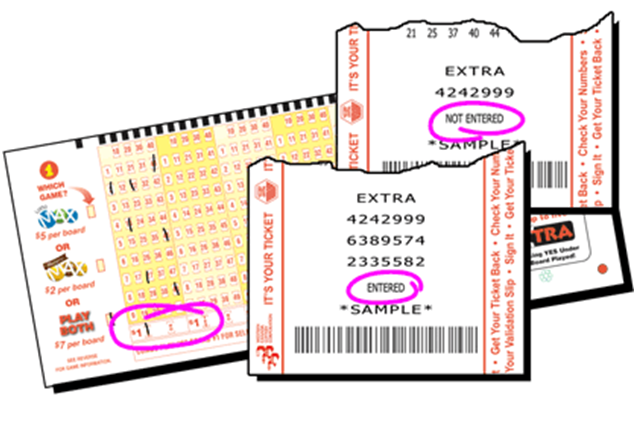 Lotto Extra is a part of any lotto and isn't available to play separately. This means it must be linked to a lottery ticket. It is played together with Daily Grand BC/49. Other lottery games it can be played with include Lotto Max and Lotto 6/49. To buy Canadian lottery tickets online, it will cost you C$1. Extra numbers are automatically generated by a computer. The odds of claiming the ultimate prize are 1 in 10,000,000.
In case there's a Replay Option in a lotto game, the lotto extra will also be replayed. The deadline for lotto extra will depend on the deadline of the associated lottery game. Also, the extra code on a ticket can only be swiped once. Lastly, always remember to say "yes" to the Lotto Extra.
Note that all the Canadian lotteries corporations operate regional add-on games that, for an extra $1 each, can be added to a Lotto Max ticket. This "spiel" game (named "Tag", "Encore" or "Extra" depending on the region), adds a 6- or 7-digit number to the ticket with a top prize of $100,000 if all six digits are matched or $250,000 to $1,000,000 depending on the region for a seven-number match ($1,000,000 in Ontario and Quebec; $250,000 in the Western Canada region of Alberta, Saskatchewan, Manitoba, and the territories).
6. Lottario Lotto
Lottario Lotto is only available in Ontario. In this game, you'll have an opportunity to become a winner per C$1 play. For every C$1 play, there are two selections of six digits ranging from 1-45. Each ticket will be eligible for two draws. These are the Main Draw and Early Bird Draw.
Tickets will only be eligible for the Early Bird Draw if they are purchased on or before 11:59 PM every Friday. The minimum jackpot in the main draw starts at C$250,000 and rolls over until a lucky winner claims it. The Early Bird Draw awards C$50,000. Players can buy Canadian lottery tickets online until 10:30 PM on Saturday and the draw will follow shortly after.
7. Lotto Encore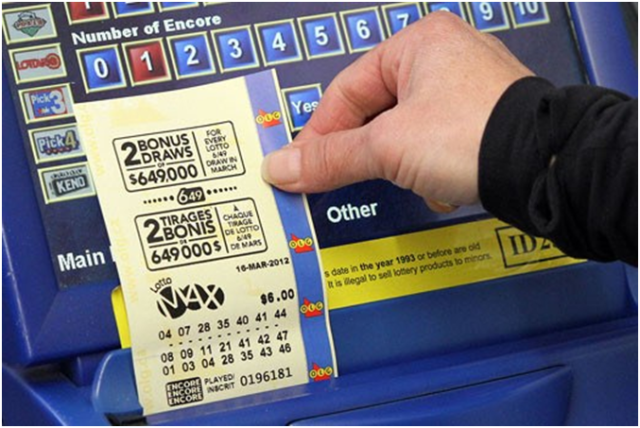 Encore is an extra or bonus game that can be played with lotto games. For an extra C$1, players have an opportunity to claim C$1 million. There are 22 ways to win while the prizes on offer start at C$2. To take advantage of this option, you'll have to request your retailer to incorporate Encore through Quick Pick with your chosen lotto game.
Also you can mark the number of Encore you wish to include (1-10) on the slip. Cash prizes are awarded once you make a left to right match, a right to left match or both. The odds of walking away with a prize stand at 1 in 9.17. Encore is only found in Ontario. With 22 ways to win and prizes starting at $2, there are a million reasons to say 'yes' to ENCORE. Just ask your lottery retailer to include ENCORE on Quick Picks with your host game. Or mark how many ENCORE you want to play (1-10) on your Selection Slip.
8. Poker Lotto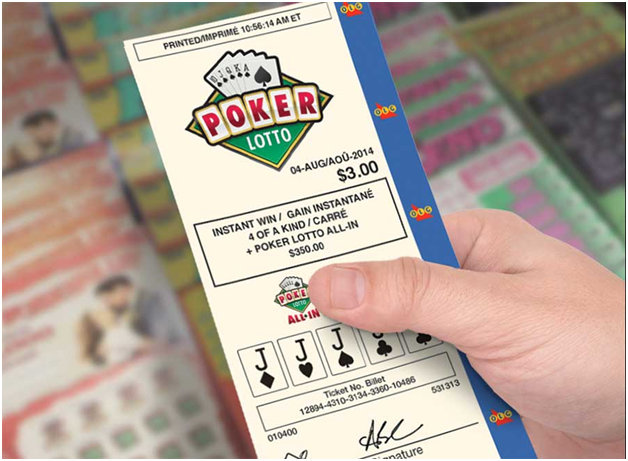 Poker Lotto falls into the category of Watch'n Win games that features two chances to win! Go ALL-IN for an extra $1 for your chance to win the growing jackpot. First up is when you are buying your card and next up is during nightly draws. For an additional C$1, players get a chance to walk away with the growing jackpot at stake.
Your cards will appear on the customer display screen. Each hand is comprised of five cards that have been selected randomly from a 52-card deck. If you manage to get a winning poker hand, get ready to pocket up to C$5,000 instantly accompanied by a sizable jackpot of C$10,000 if you chose 'All In'. Five cards are drawn during the nightly lotto draw and you'll win by matching at least 2 cards to the winning cards. The top ALL IN prize (Royal Flush) is a growing Jackpot. As said the Jackpot starts at $10,000 and increases until it's won only $1 more per hand.
9. Powerball Canada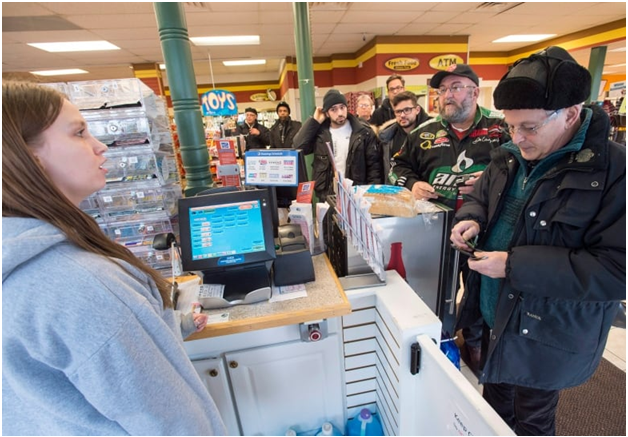 There are thousands of Canadians that cross the border to play Powerball lotto as this lottery is played in the US. But you can play the Powerball lottery online, and you need to make a selection of one red ball (Powerball) and 5 white balls, which means players will have a combination of six balls. The red ball is chosen from a pool of 1 to 26 numbers while the five balls are chosen from numbers ranging between 1 to 69.
Powerball lottery online tickets tend to have cost more when compared to Canadian lottery games. However, the jackpot at stake is worthwhile and starts at a minimum of C$10 million and at one point, it reached C$1.58 billion. Draws are held on Wednesday and Saturday and if you fail to win the jackpot, matching 5 white balls will see you win $1 million.
10. Instant Scratchies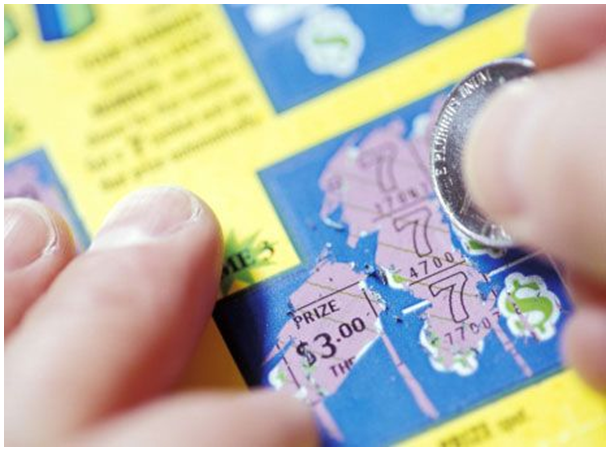 All the Canadian lotteries offer a wonderful Instant scratchie lotto games which you will love to play. These games may cost you from $1- $10 the top prize at these games goes to even millions of dollars. These games are simple to play, require no skills and are not of the high cost. Just buy the ticket, scratch it and if you have the right winning symbols you win the lottery instantly. Many new scratchies are launched each month for you to play and win.
Click here to play online lottery in BC Canada now