How To Play And Win Lightning Lotto Jackpot?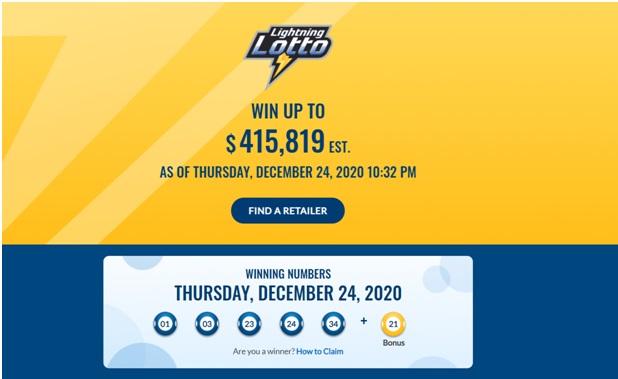 The Lightning Lotto is the new lottery game offered by Ontario lottery gaming corporation. It's a jackpot game that can be won instantly on the spot. It starts at $125,000 and grows until won! Winning numbers are drawn at the beginning of the day before sales begin. If you match all five numbers you win the Jackpot instantly.
When a Jackpot is won at any point during the day, it will reset to $125,000 and start growing until it is won again. If not won, the Jackpot amount carries over to the next day. A new set of winning numbers is drawn before the day's sales begin and the Jackpot continues to grow with every ticket sold until it is won. Sales start every day at 3:30 a.m., except on Tuesdays, when sales start at 5:30 a.m. Tickets are sold until 11:58 p.m.
How to play and win Lightning Lotto Jackpot?
To play and win Lightning Lotto Jackpot all you need is to visit your nearest lottery retailer and ask for the Lightning Lotto ticket. The ticket costs $2 and includes three sets of five numbers from 1 to 49.
The lottery terminal will randomly choose your three sets of numbers.
The winning numbers for that draw (five numbers plus one Bonus number) will be printed on your ticket, along with the LIGHTNING LOTTO game prize structure. All you need is to match your numbers drawn to win instantly!
LIGHTNING LOTTO is available by Quick Pick only. You can request up to five Quick Pick plays per ticket at a cost of $2 per play or a maximum of $10 per ticket.
The alphanumeric code printed near the top left side of your LIGHTNING LOTTO ticket is a security feature to ensure the ticket you receive is the one you purchased. The code printed on your ticket will match the one that appears on the Customer Display Unit at retail while the animated LIGHTNING LOTTO video plays.
The draw takes place before the start of ticket sales and winning numbers are available for customers to see prior to purchasing their LIGHTNING LOTTO tickets.
Also ENCORE is not available with LIGHTNING LOTTO also advance Play is not available on LIGHTNING LOTTO.
Odds in the game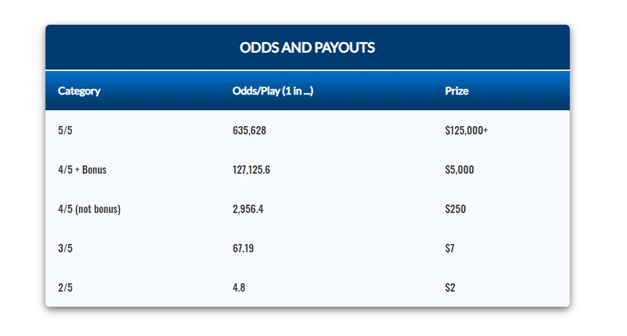 Your odds of winning any prize is 1 in 4.47 and the prize payout is 60 per cent.
Remember that LIGHTNING LOTTO is only available in-store only at OLG lottery retail locations and cannot be played online.
To win the LIGHTNING LOTTO jackpot you must match all five numbers of one selection on your ticket to the winning numbers drawn that day.
How to claim prize if you won the jackpot?
If you won the jackpot then there are many ways to claim a prize.
Winning prize under $1000 then head to retailer and get the prize.
To claim a prize of $1,000 or more, you must complete a Lottery Prize Claim Declaration Form. This applies to both single and group play wins. All prize claim documentation must include the claimant's legal first and last name as shown on the valid government issued identification that will be presented with the claim documentation.
Prize won under $50000 can be redeemed by mail. Normal processing times for mail-in claims are 4-6 weeks to process from receipt of the claim
You can mail to OLG Mail-in Prize Centre P.O. Box 130 31 Adelaide Street East Toronto, ON M5C 2J1
Winning Prize of $50000 or more you need to visit nearest OLG centre. At the OLG centre you will be asked a series of screening questions during the call to schedule their appointment as well as prior to entering the OLG Prize Centre. If you do not pass either of these screenings will have your appointments rescheduled for a later date. Also, you are required to wear face masks at the Prize Centre and maintain six feet (two metres) of distance from other individuals is encouraged.