How To Build A Lotto Ticket With Lotto Spot?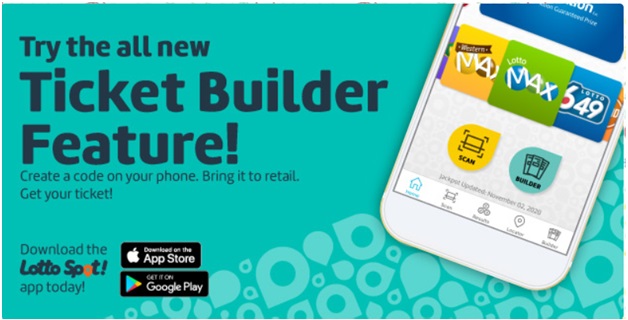 Canadian lotteries have brought out a new feature for the lottery players where you can build your own lottery ticket. Also you can check your lotto ticket and find out if you have won or not. All you need is to download the free Lotto Spot app that comes from WCLC (Western Canada Lottery Corporation) on your cell phones and get started.
The ticket builder feature in this Lotto Spot app is like a selection slip on your smartphone. The Ticket Builder feature allows you to build tickets for LOTTO MAX, LOTTO 6/49 and DAILY GRAND using your mobile device. Once complete, the app generates a QR code that can be scanned at a retail location to print a ticket. Players using this feature will not have to use paper selection slips.
How To Build A Ticket With Lotto Spot?
To Build A Ticket With Lotto Spot first download the Lotto Spot app from respective app stores. Your iPhone should be running iOS version 11.0 and higher, and Android devices should be running v.8.0 and higher. Note that you need an internet or WI FI connection in order to scan tickets.

This app is intended for residents of the Prairie Provinces and Territories aged 18 and older.
Click here to download lotto spot app for iPhone
Click here to download lotto spot app for Android
You can sign up and open your account if you want or simply use it to check your lotto results. But to build a ticket you have to sign up with your email and phone number.
Now click on the Builder icon on the home screen or the menu bar.
Select the game for which you want to build a ticket.
Choose the number of boards and the numbers you want to play. You also have the option to let the app "Auto Pick" your numbers.
 Next choose whether to add EXTRA. Then name and save your selections.
When you visit a Lotto Spot! retailer, pull up the Builder feature on your mobile device and press the "Saved Numbers" button. The retailer will scan the QR code then print your ticket. No selection slip required!
This app recently changed from Lottery Manger to Lotto Spot! If you have the old Lottery Manager app on your mobile device, the app will update without notification if you have automatic updates enabled on your device. If you don't have automatic updates enabled, you will receive a notification from the Apple or Google store that the app is ready to update. You will then need to go into the store to update to the Lotto Spot! app.
If the barcode at the bottom of your ticket is mis-printed, the ticket scanner will not recognize it.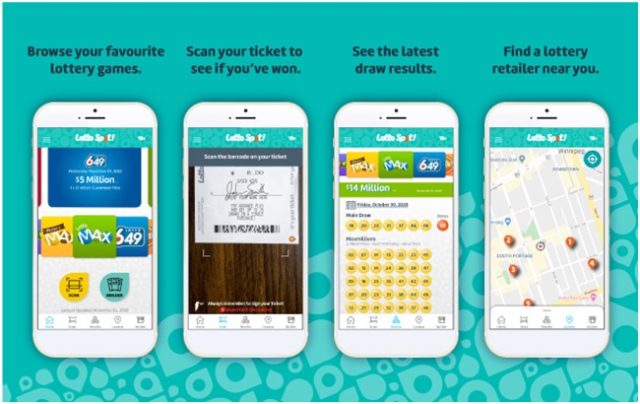 The lotto ticket checker lets you check all lottery and Zing tickets, by scanning ticket bar codes on your mobile device. The ticket checker is available 23 hours a day, from 5 am to 4 am CT; 4 am to 3 am MT. Note that Lotto spot app of WCLC can only check tickets purchased within the WCLC region.

You can now play your favourite lottery tickets like a selection siip to build a ticket then save it and get your ticket printed at retail.
Also the app has a Store locator feature that helps you find the nearest Lotto Spot retailer. The app also notifies you for any upcoming Jackpot. You can even browse current and past winning numbers and prize breakdowns for all WCLC games. The new lotto players have how to play instructions for all WCLC games within the app which is simply wonderful.
Now begin to play your favorite numbers for LOTTO MAX, LOTTO 6/49, DAILY GRAND plus EXTRA, just like a selection slip and then save the QR code and have your lottery retailer scan it to print the ticket.
For any issues or difficulty in building your lotto ticket you can call the support at 1-800-665-3313 during business hours Monday to Friday 7:30 am – 4:30 pm MT/ 8:30 am – 5:30 pm CT.