The OLG lottery Hit or Miss to play- New lottery which draws every 5 minutes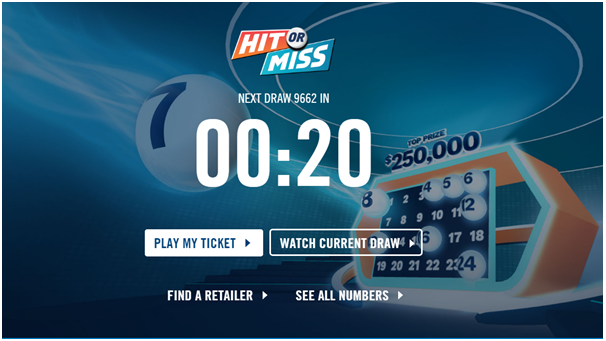 OLG has introduced a new lottery called Hit or Miss which offers a win every five minutes. This lotto game has been criticized by many as some advocates saying the game is too much of a gamble for those battling addiction.
The new game called Hit or Miss which began in January 2018 requires players to buy a $2 ticket at a lottery retailer. They can then download the associated app and watch the draw live on their phone or on the Ontario Lottery and Gaming Corporation (OLG) website. To be in the money, players must have all the numbers, or none of them.
Hit or Miss- The Lottery game play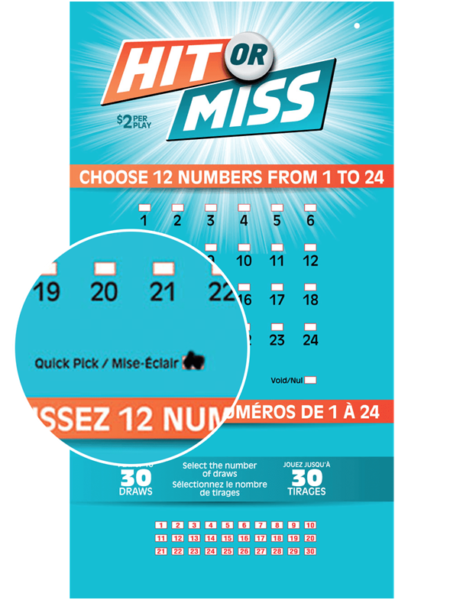 You can play Hit or Miss for a chance to win the top prize of $250,000 by matching all or none of the numbers drawn!
Each $2 play consists of 12 numbers from 1 to 24.
You can buy this lottery ticket from your nearest lottery retailer and ask for a Hit or Miss Quick Pick or check the Quick Pick box on a Hit or Miss selection slip and the lottery terminal will randomly choose your 12 numbers from 1 to 24.
If you want to play more than one draw in advance, ask your lottery retailer for the number of draws you'd like to play or use a selection slip and mark the number of draws in the Advance Play box.
You will always be entered into the next available draw at the time of purchase.
One board per play therefore if you purchase 2-30 draws, your Numbers will be the same for each draw. You can play up to 30 draws in a row with Advance Play.
The odds of winning the game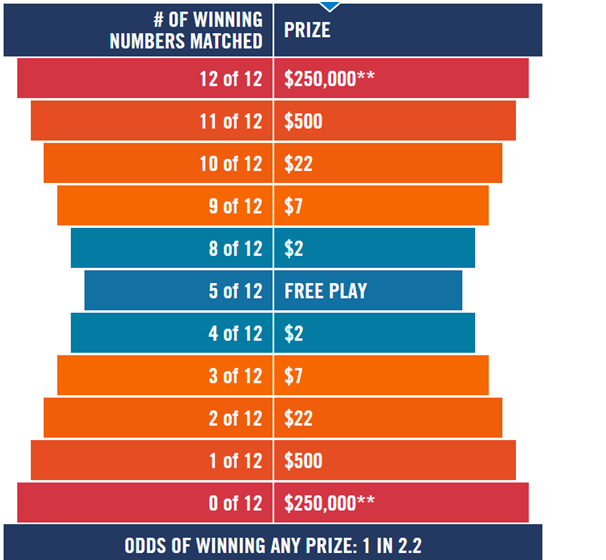 The great overall odds of winning any prize 1 in 2.2. You can win the top prize by matching ALL or NONE of the numbers drawn with lots of great cash prizes in between.
Where to get the results of Hit or Miss Lottery Draw?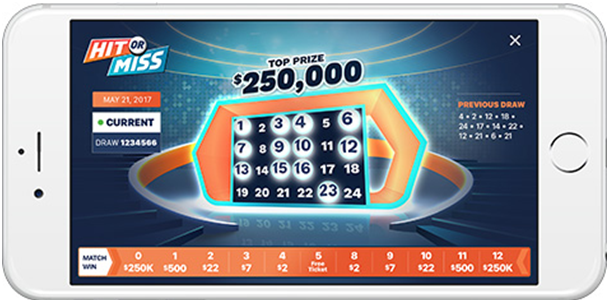 Draws take place approximately every 5 minutes from 12:05am to 1:30am & 7:00am to 11:55 pm, EXCEPT Tuesdays where draws are held from 12:05 am to 12:30 am & 7:00am to 11:55 pm. All draw times reflect Eastern Time.
As this lottery draw takes place every 5 minutes so ask the lottery retailer and know the results instantly.
Or download the OLG lottery app from app stores and play your ticket when you want, wherever you want. It's as easy as scanning your ticket in the app.
Scan the bottom barcode found on your HIT OR MISS ticket. This will launch the draw for your ticket.
Watch one by one as the numbers are drawn to see if you're a winner.
If you've purchased more than one draw, results will be tallied for you at the end of the draw sequence.
Also know the draw at OLG website online. You'll be asked to enter the ticket number found on your HIT OR MISS ticket.
How to claim prize as a winner with Hit or Miss lottery?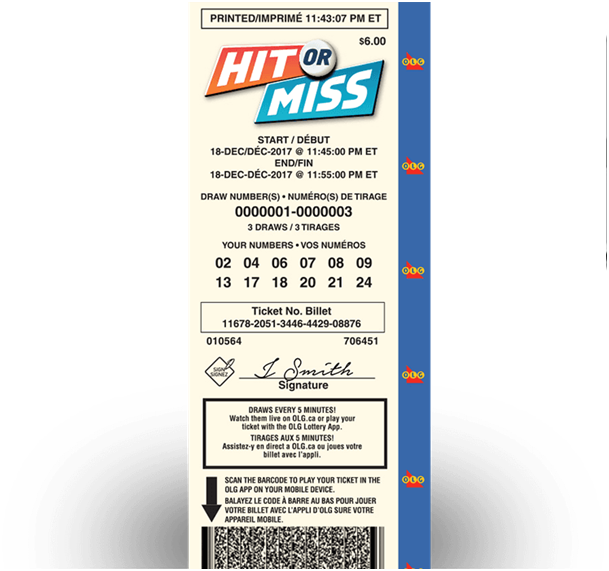 Always visit an OLG Retailer for official ticket validation and to redeem your winnings. Prize shares are calculated each evening around midnight so will not be available on the winning numbers page on OLG.ca until the following day.
Note that before claiming the prize your original signed winning ticket needs to have all required information filled out on the front and back of the ticket. Also check your ticket yourself to see if you've won. Have your Customer Receipt with you (if the ticket was already validated by another OLG retailer)
So take your signed ticket to the OLG retailer for prize verification on a lottery terminal. You will see a winning message on the Customer Display Screen and hear a winning message play from the lottery terminal.
For LOTTO tickets, your winning prize amount will be printed (or 'branded') on the front, left-hand side of your original ticket.
If the retailer can pay your prize, he or she will tear through the bar code of your paid-out ticket, and return the validated ticket to you along with the corresponding Customer Receipt.
If a retailer is unable to validate your ticket because it is damaged you must mail it to the Prize Centre to determine if the ticket has won a prize.
Every time a retailer checks a LOTTO ticket on a lottery terminal, a customer receipt is printed. The boxed ticket number on the customer receipt will match the ticket number on your LOTTO ticket.Your retailer will pay your prize amount in cash. Every retailer can pay up to (and including) $50. Retailers have the option to pay up to $999.90 (as long as they have the cash available).
If you still have draws remaining on your winning LOTTO ticket, you will be provided with an Exchange Ticket from the lottery terminal. This will be your ticket for the remaining draws.
If you have any doubts you can call OLG Support Centre 1-800-387-0098 and clarify your issues.
Note that Hit or Miss prizes must be claimed within 12 months of the draw date.
The OLG says the game has the same risk for gambling addiction as the instant games already on the market, like scratch tickets. Because you have to see the draws on mobile or on your laptop, they're designed with built-in player protections and OLG's responsible gambling information. The organization also says to limit the risk of gambling addiction, players are limited to 30 draws in advance and must go to a lottery retailer to buy the tickets.
The OLG lottery Hit or Miss to play- New lottery which draws every 5 minutes

,