The 2 featured promotions from OLG lotteries to grab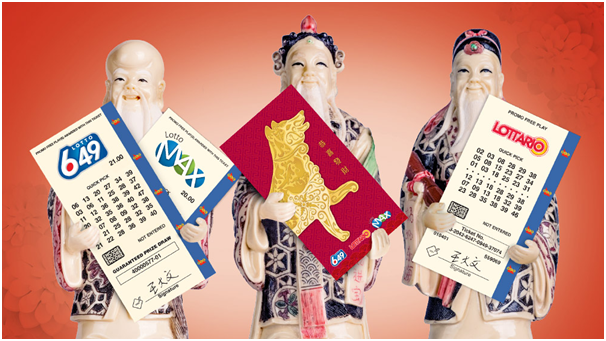 OLG is the Ontario government agency that conducts and manages gaming facilities, the sale of province-wide lottery games, PlayOLG internet gaming, bingo and other electronic gaming products at Charitable Gaming Centres.
The lottery games that you can enjoy with OLG are Lotto Max, Lotto 6/49, Daily Grand, Ontario 49, Lottario, Poker Lotto, NHL Lotto, Wheel of Fortune, Megadice, Hit or Miss, Daily keno and many other instant scratchies.
OLG lotteries also offer many promotions and bonuses from time to time for its members or players that play their lotteries. Here are the two featured promotions from this Lottery corporation to grab in 2018 that will surely give you different ways to win the lotteries.
Instant Upgrade Contest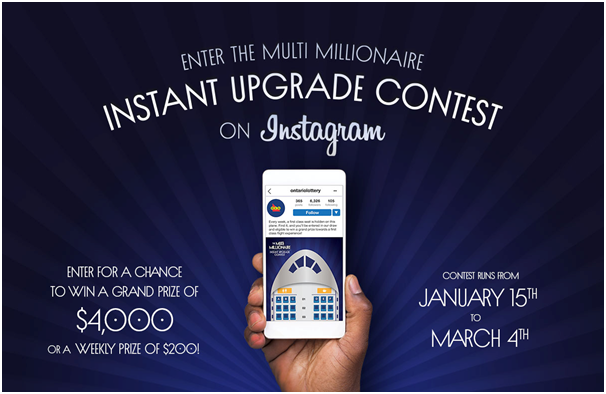 All you need to get this promotion is to follow OLG on Instagram @Ontariolottery to enter the Multi Millionaire  Instant Upgrade Contest. You could win a weekly cash draw and a chance at the $4,000 grand prize towards a first-class flight!
The relevant time period in which Eligible Participants may earn Entries) began on January 15, 2018 at 10:00 a.m. and ends on March 4, 2018 at 11:59 p.m. The Promotion Period consists of eight separate and distinct contest periods. Eligible Participants may earn an entry into the applicable Draw by accessing the OLG Instagram Page, locating the Posts associated with the applicable Contest Period, and using his/her Account to post a response in accordance. An Eligible Participant can earn a maximum of one Entry with respect to any one of Contest Periods one through seven regardless of how many Response he/she submits.
There will be a total of eight prizes available to be won in this Promotion. The Prizes consist of seven Weekly Prizes and one Grand Prize. There will be two-hundred Canadian Dollars ($200.00 CAD) available to be won with respect to each of Contest Periods one through seven. There will be four-thousand Canadian Dollars ($4,000.00 CAD) available to be won with respect to Contest Period eight.
The Bachelor Bingo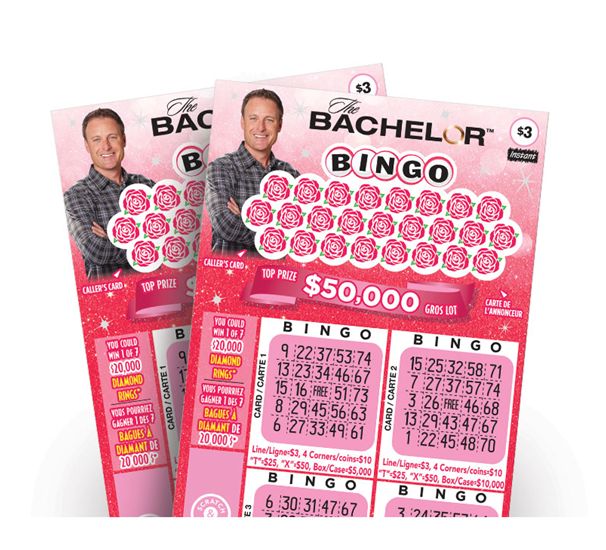 The Bachelor Bingo is an instant lottery game offered by OLG which you can play $3 per play. With overall odds of winning: 1 in 3.83 this lotto has $50,000 top prize. To play this instant lotto you need to scratch the CALLER'S CARD completely. Scratch the numbers on BINGO CARD 1 to BINGO CARD 4 that match the numbers revealed on the CALLER'S CARD.
Using the numbers revealed and the FREE space on the BINGO CARDS, you win if you uncover one of the following patterns on one or more of the BINGO CARDS:
Line: Any complete horizontal, vertical or diagonal line (5 numbers or 4 numbers and FREE);
4 Corners: All 4 corners (4 numbers);
T: Consisting of 8 numbers plus FREE forming a complete upright T;
X: Consisting of 8 numbers plus FREE forming a complete X;
Box: The outside square (16 numbers).
Check the winning BINGO CARD(S) prize legend for the corresponding prize(s). You can win only one prize per BINGO CARD.  Also there is FAST $15 where you Scratch the FAST $15 area completely. Uncover 3 "HEART" symbols and WIN $15.
Diamond Ring prize may be claimed in the form of a Diamond Ring selected by the winner with an approximate retail value of $20,000 (after applicable taxes); or the player may elect to receive a cash prize of $20,000 (CAD). If the player elects the Diamond Ring Prize, they will not be entitled to any cash (or cash equivalent) balance  between $20,000 and the actual value of their selected Ring.   All prizes must be claimed by July 31, 2020.
Now rush to grab these offers as they are for a limited time only.