How to play Roam Lotto and win five unique trips plus CA $75,000?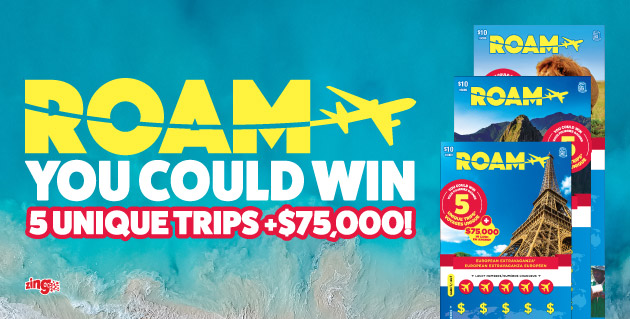 Roam is a new lotto zing game available right now in Canada where you can win five unique trips + CA$75000. You can play this lottery at Atlantic Lottery Corporation, British Columbia Lottery Corporation, Western Canada Lottery Corporation and Loto-Quebec online or offline. All lottery retail locations in British Columbia by British Columbia Lottery Corporation (BCLC), in Manitoba, Saskatchewan, Alberta, Yukon, Northwest Territories, and Nunavut by Western Canada Lottery Corporation (WCLC), in Quebec by Loto-Quebec (L-Q) and in New Brunswick, Prince Edward Island, Nova Scotia, and Newfoundland and Labrador by Atlantic Lottery Corporation Inc. (ALC) offer this lotto ticket for purchase.
Categorized under Zing Games, Roam is actually a scratchie type game and costs $10 per ticket.
How to play Roam lotto in Canada?
There are three games here to play . You buy the tickets for $10 and begin. In the game one if any of the twenty (20) YOUR NUMBERS exactly matches one of the five (5) LUCKY NUMBERS, you win the corresponding prize. In Game 2 if you uncover three (3) identical symbols, you win the GAME 2 PRIZE box. In Game 3 if you uncover three (3) identical prize amounts, you win that prize.
Click here for the rules to play Roam Game 1
Click here for the rules to play Roam Game 2
Click here for the rules to play Roam Game 3
The Roam Lotto Instant scratch ticket is only available for purchase in Alberta, Saskatchewan, Manitoba, Yukon, Northwest Territories or Nunavut, and Quebec, by persons who are eighteen (18) years of age or older at the time of purchase;
Also in British Columbia, New Brunswick, Nova Scotia, Prince Edward Island, Newfoundland and Labrador, by persons who are nineteen (19) years of age or older at the time of purchase.
Odds of Winning Roam Lotto
The overall approximate odds of winning a prize are 1 in 3.35; however, the chance of winning a prize may vary depending on the number of prizes claimed and the quantity of tickets distributed. The odds of winning one of the five Top Prizes is approximately 1 in 560,000. As this is a ticket offered by multiple Canadian Lottery jurisdictions, the number of prizes and odds of winning are based on prizes offered among all the jurisdictions mentioned above.
Prizes to win
Roam offers a variety of prizes that range from $10 to the top prize. In total, there is over $19 million in prizes available to be won on this ticket! There will be five (5) Top Prizes available to be won. The confirmed winner of a Top Prize will receive the option to select either: (i) Five (5) all-expense-paid trips for the winner and one (1) guest plus $75,000 in cash payable by cheque OR (ii) the lump sum cash prize option of $325,000 CAD, payable by cheque.
If the confirmed winner of a Top Prize elects to receive the five (5) all expense paid trips plus $75,000 in cash, the latter will have to choose five (5) trips among the ten (10) proposed. Each trip is worth approximately $50,000 and includes: determined itinerary and activities, return flights in economy class (unless otherwise indicated in the description of a trip), accommodations in a double occupancy room, return transfers to the hotel(s), meals and drinks, hotel and airport taxes.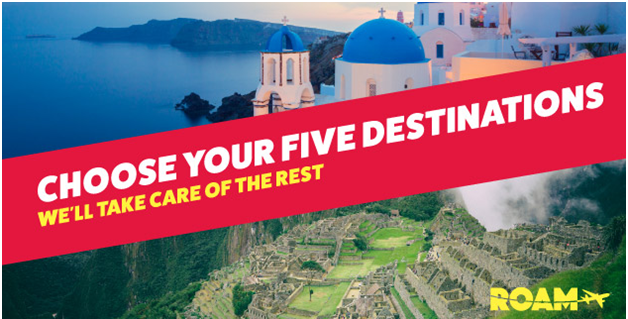 The 10 Travel Destination Options Include:
Far and Away on Fogo Island
Hang Ten in Hawaii
Sailing the Greek Isles
Taste of Tuscany
European Extravaganza
Making a Difference in Machu Picchu
Sunday's Biggest Game
Icelandic Summer Solstice
Kenya Conservationist
Argentina Vino Adventure
Each trip has an approximate value of $50,000.
All travel arrangements must be booked with the Agency, Imagine Experience, which can be contacted at https://imagineexp.com/#contact. The Sponsors will provide the name, address, and telephone number of the winner to the designated representative of Imagine Experience, who will follow up with the winner for the organization of the trips. Additional conditions and other travel restrictions may be imposed by the Agency.
The winner and their guest must each meet all requirements for traveling to the chosen destinations on the dates that will be scheduled, including holding a valid passport.
Sponsors decline all responsibility in the event that the winner or their guest do not arrive on time at the airport, do not have the necessary boarding documents, or are refused access to the plane, for any flight delays or cancellations. No compensation of any kind will be paid should the winner and/or their guest be otherwise unable to take advantage of their prize or any part thereof.
Each trip (or any part thereof) must be accepted "as is" and may not be redeemed for cash, exchanged, or transferred.
If the confirmed winner of a Top Prize elects to receive the cash prize option, then he or she will be issued a single lump sum payment by cheque in the amount of $325,000.
How to claim a prize-winning Roam ticket?
The information on how to claim a prize can be found on the back of each ROAM Instant Ticket or on the website of each of the Sponsors.
Prizes must be claimed in the region in which the ticket was purchased.
ALC/SLA:
If you think you have a winning ticket you can contact Customer Care Center at 1-800-561-3942. They will ask you a few questions to ensure you have the potential winning ticket. If the win is $250 or less, your local retailer can validate your ticket and pay your prize. If your win is over $250 but under $10,000, you can visit your local Scotiabank branch or at their head office. If your win is $10,000 or more, you'll need to come to one of  regional offices or head office. Make sure you bring your ticket and a piece of government-issued photo ID. A winner's representative will guide you through the claim process and help you fill out a number of forms that prize and security departments need to process your claim.
BCLC:
Prizes up to and including $200 may be claimed from any BCLC lottery retailer. At their discretion, a BCLC retailer may pay prizes up to $2,000. However, as most retailers do not keep large sums of cash on hand for security reasons, Casinos and CGCs may be a better option as they will generally have cash available to pay lottery prize claims between $200 and $2,000. Prizes up to $9,999.99 can be claimed at designated Regional Prize Payout (RPP) locations. Regardless of the win amount, valid government issued ID is required when claiming a prize at one of these RPP locations. For all other inquiries, call BCLC Customer Support at 1-866-815-0222 or visit www.bclc.com.
WCLC:
WCLC: Prizes of $1,000 or less may be claimed at participating WCLC lottery retailers. For prizes over $1,000, including the ROAM DESTINATION prize, or other prize claim information, call 1-800-665-3313. www.wclc.com.
L-Q:
Prizes of $500 and less: a retailer of Loto-Québec; Prizes of $1,000, $5,000, $10,000, $50,000 and "WORLD DESTINATION" prize (or $325,000): Loto-Québec†. † Loto-Québec: by mail (preferably by registered mail) to Loto-Québec, C.P. 7777, succ. Centre-ville, Montréal (Québec) H3C 4L4; or in person at a designated Loto-Québec establishment (list available on request or at lotoquebec.com). 1 866 611-LOTO (5686) For more details, visit lotoquebec.com.
All prizes for the ROAM Instant Ticket must be claimed in advance of close of business on January 29th, 2021.
If a Top Prize winner elects to choose the five (5) all-expense paid trips plus the $75,000 cash payment, he or she will be required to complete all five (5) trips by March 31st, 2023. Any trips not completed by this date will be considered forfeited, without compensation.
In order to be awarded a prize, the holder of a winning ticket will be required to complete the prize claim process which includes, without limitation confirming acceptance and compliance with these Game Conditions.
If, as determined by the Sponsors in their sole and absolute discretion, the awarding of the five (5) all-expense paid trips is impractical or would otherwise lead to an unexpected results for either the Sponsors or the winner of the Top Prize, the Sponsors will pay the lump sum cash prize option of $325,000.
Sponsors shall award the single lump sum cash payment of $325,000 in lieu of the five (5) all-expense paid trips in the event that:
ILC or the Sponsor for the region where the ticket was issued is prohibited by law from providing trips to a winner; or
There is more than one winner of a Top Prize or a winning ticket is shared by more than one person; or
In the opinion of ILC, the awarding of the five (5) all-expense paid trips is impractical for either ILC or the winner for any other reason deemed justified by ILC at its sole discretion.
This ROAM Instant Scratch Ticket is governed by the Rules and Regulations Respecting Lotteries and Lottery Tickets of the Interprovincial Lottery Corporation. These rules and regulations are available upon request and on the websites of the Sponsors, and include limitations of liability.