Most of you must be a crazy fan of Keno games. These easy to play games are just about matching your numbers to the winning numbers. Keno as a lottery game was first started in China and then became popular all over the world.
In Canada the Ontario Lottery and Gaming Corporation runs the OLG Daily Keno as one of their top lottery games. You will find a wide range of bets that makes it easy to wager as much as you want with different levels of risk. The Daily Keno is one of their most popular games with thousands of people playing every single day.
About Daily Keno
OLG is the most popular keno in Canada followed by Atlantic Keno as the second most popular Lotto game.
Twenty winning numbers between 1 and 70 are drawn.
Two draws per day – a 2 p.m. (Eastern Time) MIDDAY draw and a 10:30 p.m. (Eastern Time) EVENING draw each day.
You have to decide which PICK CATEGORY you would like to play. Choose from a 2 PICK (2 numbers) up to a 10 PICK (10 numbers).
Bet $1, $2, $5 or $10. The more you bet, the more you can win!
Match your numbers to the 20 winning numbers to win!
You must be 18 and over years of age to play this game.
How to Play OLG Keno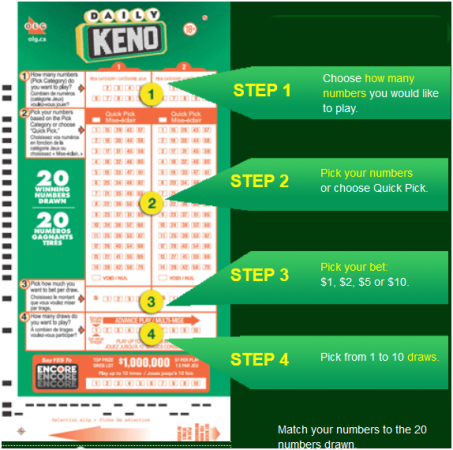 Once you get a game ticket, you'll need to mark how many numbers you want to try to guess, and this can be anywhere from two to 10.
Mark down the numbers from the pool of 70 that you are guessing will be drawn. If you just want the computer to pick random numbers, then you can ask for the Quick Pick option instead.
Once your numbers are chosen, you'll bet $1, $2, $5 or $10 on your ticket.
You have the option to play for up to 10 consecutive drawings in the Daily Keno, and you can pay for them all in advance.
After your ticket is purchased, just check in on the results for the daily drawings to see if you have won.
$1 Daily Keno 10 Pick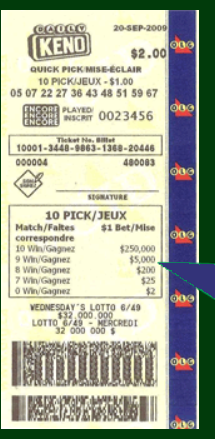 Ask an OLG retailer for a Quick Pick. Choose from a 2 PICK (2 numbers) up to a 10 PICK (10 numbers). Prize values based on $1 bet. For bets over $1, multiply the prize amount by the bet amount.
How to have the Daily Keno Lottery Ticket
You can have Daily Keno Lottery ticket from retailer authorized by OLG.
Always sign your lottery ticket as soon as you purchase it. For added protection, complete the information on the back of the ticket.
Double-check your lottery tickets before leaving the retail counter.
The numbers on your lottery ticket should match the numbers you chose on your selection slip.
Your ticket should be free of damage or defects. If your ticket seems unusually damaged, call the OLG Support Centre at 1-800-387-0098.
Avoid making any extra markings on your ticket. Unknown markings can increase the time it takes to process your prize claim. The only information that should be written on the ticket is your signature or printed name and the personal information required to complete the back of the ticket.
OLG Keno Odds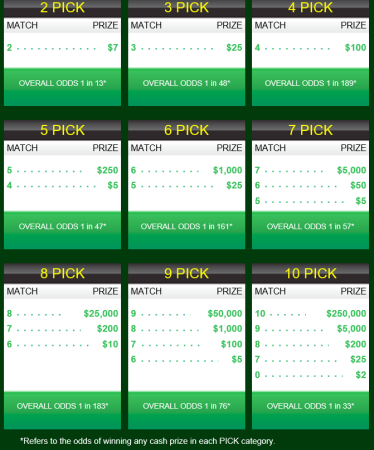 There are a total of 22 different ways to win in this game. However, the most popular bet is the 10 Pick where a player tries to guess 10 of the 20 numbers that are drawn. The odds of getting 10 numbers right are one in 2,147,181, and this pays out $250,000 for every dollar that you bet.
Getting nine numbers right pays $5,000 times the size of your bet, and the chances are one in 47,238. Hitting eight numbers has a one in 2,571 chance with a $200 prize per dollar wagered, and match seven numbers pays a $25 prize for every dollar that you bet on your ticket with a 1 in 261 chance of hitting.
You also have a one in 39 chance of getting exactly zero numbers correct, and you win a $2 prize on a $1 bet for this result.
How to Claim Prizes on Winning Daily Keno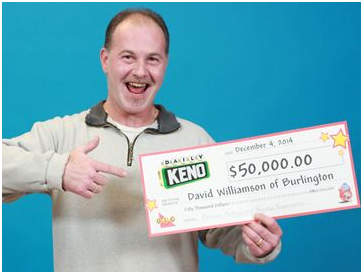 Prizes up to $1000 can be claimed at the OLG retail centers.
Claim of $1,000 or more, you must complete a Lottery Prize Claim Declaration Form. This applies to both single and group play wins.
All prize claim documentation must include the claimant's legal first and last name as shown on the valid government issued identification that will be presented with the claim documentation.
Prize winnings cannot be assigned, transferred, lent, sold or otherwise directed to third parties by prize winners. For greater specificity, all prize winnings will be paid directly to the prize winner (as determined by OLG).
As part of OLG's prize payment protocol, OLG reserves the right to subject any person having any involvement with a winning ticket prior to the submission of a prize claim to the same requirements as the person(s) claiming the prize. These requirements include, but are not limited to, providing valid government issued photo identification, participating in a face-to-face interview, and completing the "Release of Prize Claim Form".
No income taxes or fees of any kind have to be paid to Canadian authorities on lottery winnings in Canada
Now have a Daily keno and pick your winning numbers!