Which lotteries can I play as a group at Lotto Quebec in 2020?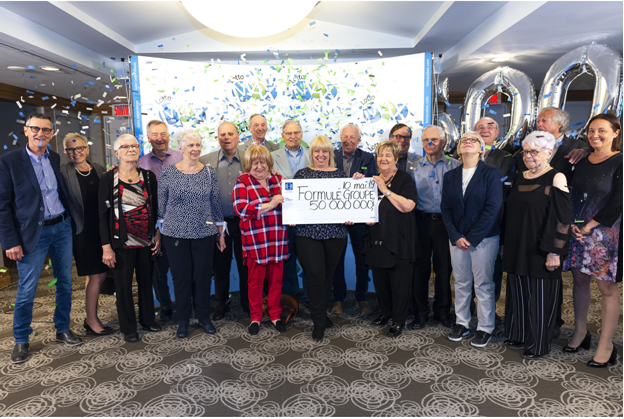 Lotto Quebec offers the most popular Canadian lottery games to play as group at their online official site. Play as a group means you play with a set number of people that can be your friends, family members or colleagues.
To play as a group online, the players in the group have to purchase one or more shares in a group and pool them with the shares of the other members. One share corresponds to a set number of selections or plays for a given lottery, to which one or more Extra numbers can be added for one or more draws. Share configuration is defined by the creator of the group. Like a share could comprise one $3 Lotto 6/49 play and one $1 Extra number for one draw. One share in this group would then cost $4.
The number of shares in the group (between 2 and 100) is also determined by the group's creator. The final number of shares in the group is confirmed at the deadline of wagers and corresponds to the actual number sold, whether or not the maximum number of shares has been reached. Like, a group that is defined as having a maximum of 75 shares could, in the end, be comprised of only 10 shares if that was how many had been sold at the deadline of wagers.
Since a group is comprised of many pooled shares, the odds of winning a prize are increased. All prizes won are shared among all members of the given group in proportion to the number of shares held by each.
The Canadian lotteries that you can play as a group
There are four popular Canadian lotteries that you can play as a group. These are Lotto Max, Quebec Max, Lotto 6/49 and Quebec 49. You can play online with your PC or laptop or with any of your smartphone be it Android or iOS instantly with the Lotto Quebec App. As a group play  you increase your chances of winning by combining your selections with those of the other members of your group. Group play can cover one or more draws and groups can include friends or even strangers.
How to play Canadian lotteries as a group?
There are two ways to play Canadian lotteries as a group. You can create a group that fits your liking and easily invite people you know to participate. Or, you can choose to join an existing group. To take part in online group play, you'll need an Espacejeux account.
So you need to first register yourself at Loto Quebec website and open your account.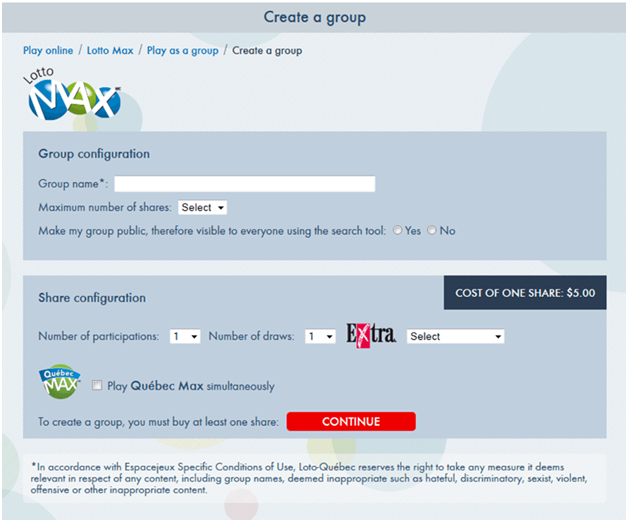 Now you can create your own lottery group and configure it to your liking. First choose the lotteries that you want to play among those offered and also you can add Extra, too.
Then give a name to your group because it will appear on your invitations and in the search tool.
Now select the maximum number of shares in your group – between 2 and 100.
You also need to decide if your group will be public; If so, it will be visible to everyone using the search tool. If you choose not to enable your group to be visible in the search tool, people will only be able to join if they have the group's Web address (URL). The creator of the group cannot prevent anyone that finds it from joining the group, and cannot remove them.
You will need to configure shares and determine how many selections or plays, draws and Extra numbers there are in each one. Anyone wishing to join the group (including you) must purchase at least one share.
To finalize the process of creating your group, you now need to purchase at least one share. When that is done, you will receive e-mail confirmation (sent to the address listed in your Espacejeux account) that the group has been created.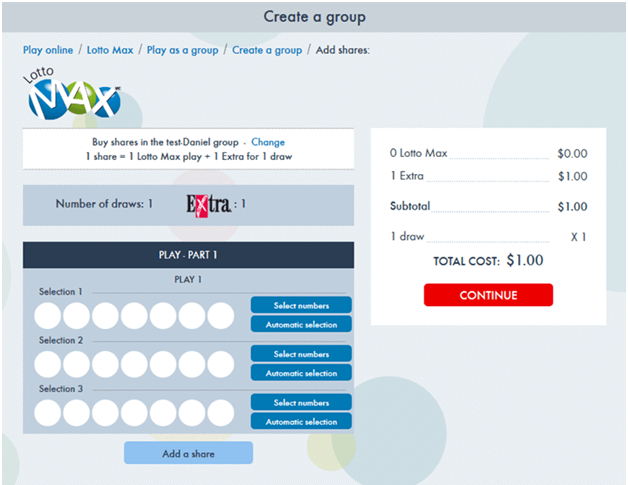 You can invite people you know to join your group by sharing its Web address (URL) on Facebook, using the Share button displayed on the confirmation of purchase or in the My Groups section. You can also copy the group's Web address and share it the way you like (text messages, e-mails, Twitter, etc.) The Web address can also be found in the e-mail group creation confirmation and on the Share page.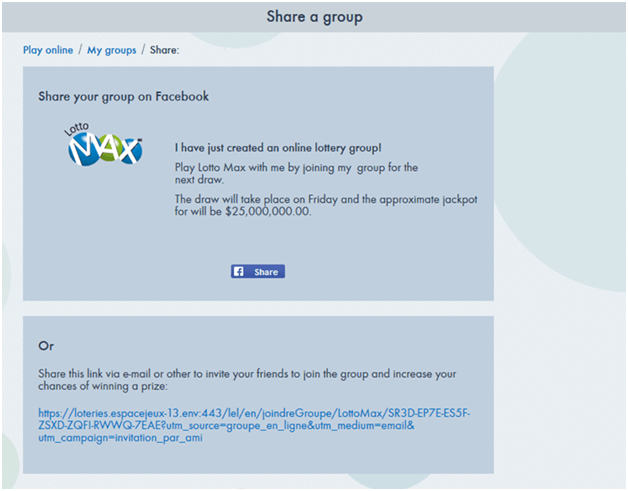 How to Join an Existing Group to play Lotteries?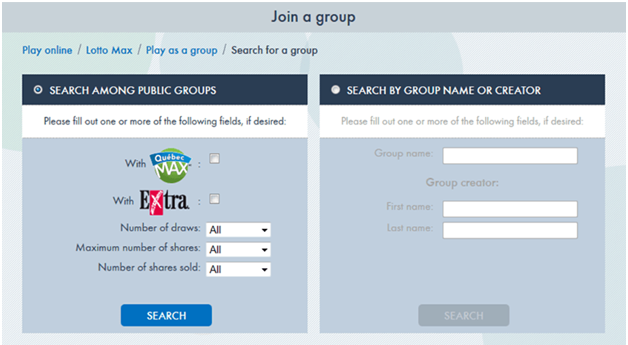 You can join an existing online lottery group by using the group search tool. If you want to find a specific group, you can search by the name of the group or the person that created it. If you are not looking for a particular group, you can search by type of group (product(s), number(s) of draws, maximum number of shares, with or without Extra, etc.) then choose the best fit from among the results displayed.
If you receive an invitation from the creator of a group through Facebook, e-mail or other means, simply click on the displayed link that shows the details of the group and enables you to join.
Any person who has an Espacejeux account can join a group before the deadline of wagers for the first draw in which the group participates, as long as the group's maximum numbers of shares has not been subscribed.
Remember that you must purchase a least one share to join a group. Purchased shares are added to all others in the group. Individual members of the group can choose the numbers on the selections or plays they add to the group or opt for automatic number selection.
Claiming of prize in a Group Play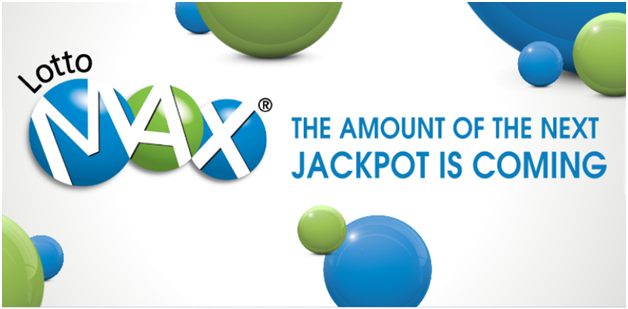 When a group wins, the amount won by each of its members is calculated on the basis of the total number of shares and the individual share(s) held by each member. The total amount won will be divided by the number of shares in the group. The amount won by each member is then multiplied by the number of shares held by that person. Suppose, if a group wins $50,000 and has 5 shares, each share wins $10,000. A member that purchased 2 of the 5 shares would thus receive $20,000. The group's results can be viewed in the My Results section of the lotteries site.
Winnings are automatically credited to the Espacejeux accounts of each member of the group. To collect individual wins of $25,000 or more, winners are required to go in person to the Winners Payout Section of our Montréal or Québec City offices, per Specific Online Gaming Conditions of Use. Free plays resulting from group purchases are automatically issued for the draw following the one for which they were won.